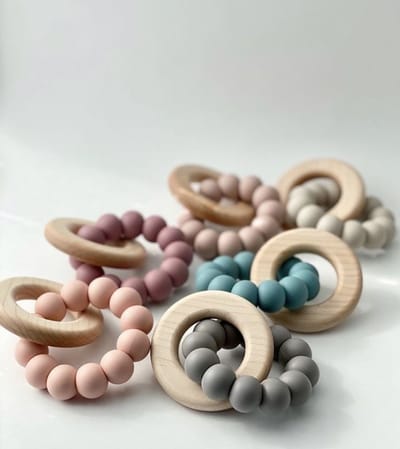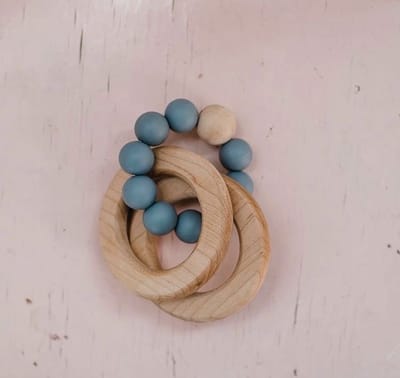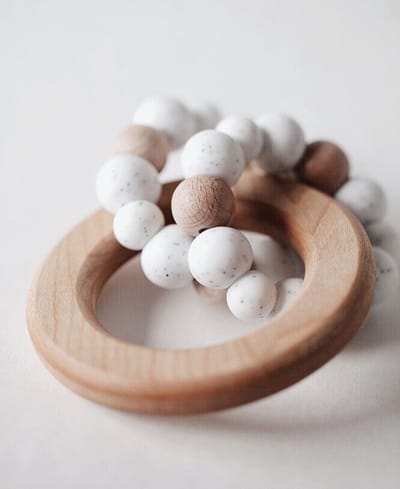 DISCLAIMER:
- Dummy Clips and Teethers are composed of small parts, please do not leave your baby unattended with these products.
- Our Dummy Clips are made of natural beech wood and / or food grade silicone beads. Our sili beads are BPA, Phthalate, Lead & Cadium free.
- Do not use dummy clips while your baby is sleeping.
- Attack Dummy Clips to baby's clothing, and not onto bibs, blankets or toys.
- All wood/beads are natural and untreated (raw)

TAKING CARE OF YOUR BABY & BEAR PRODUCTS:
- Wear & Tear of dummies, dummy clips and teethers can start within a few week of use.
- Dummies and other products usually last longer for smaller babies than children that's a bit older.
- When your baby is growing and starting to crawl or walk, the products may start to wear & tear easier because of contact with food, water, juices, milk or the floor, when baby crawls.
- In order to extend the use of your dummy clip, try to avoid that the dummy clip will get into contact with these things.
- If you would like to treat the wood on your baby's dummy clips, rattles or teethers we recommend you to use olive oil or coconut oil. Please take note that this will also change the color of the wood.
- Other a certain period of time the clasp of the dummy clip may start to wear and not close fully. If this happens, it is a safety warning and that means that you need to replace the dummy clip.
- Dummy clips usually lasts for about 6 months, depending on how you take care of it.
- To sterilize your baby's dummy we recommend ti put it in boiling water for about 5 minutes.
- It's normal for the pacifier to get water into the rubber because of the vent hole.
- Simply squeeze the rubber gently and ensure that all the water is out.
- It's important to clean and sterilize your products on a daily basis.
- You shouldn't use a dishwasher, micrmicrowave or other chemicals to clean our product, as it will break down the natural rubber.

RETURNS:
-Due to the nature of our products we can not accept returns.

For safety and hygiene reasons we recommend you to replace your child's dummy every 4-6 weeks.